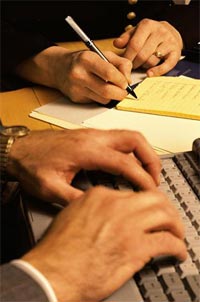 Why Use Midwest Crescendo?

Midwest Crescendo has over 15 years of experience in speech and transcription technology.
Crescendo Systems Corporation develops integrated digital dictation, speech recognition, transcription, authentication and management systems for the medical, legal, law enforcement and insurance sectors. Since its inception in 1990, Crescendo has provided more than 2,000 installations totaling over 200,000 users worldwide.

Building on this proven technology, Crescendo is constantly developing ground breaking approaches to off-site transcription, premise-based systems and voice capture. Today, Crescendo is present in the United States, Canada, UK, Australia, Hong Kong and South Africa.
The word crescendo refers to a constant and structured increase in product dynamics.
" Crescendo" defines our strategy for the performance of digital dictation and transcription, a gradual increase in the strength and fullness of our value proposition to the marketplace. Crescendo has fed this innovative direction through:
Non-stop Research & Development
Constant product enhancements based on customer feedback
Continuous reinvestment in the future of the company
Nor have we ever moved away from our initial business focus:
Digital Dictation
Speech Recognition
Transcription
Authentication