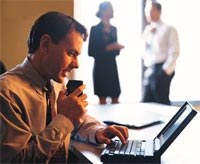 Crescendo Solutions for Legal Sector

Forget documentation hassles, spend more time with clients.
In today's legal environment, speed and mobility are everything. This is why so many law firms have moved from analog to digital dictation in the past few years, accelerating report turnaround while freeing Authors from their workstations. But there are still a few question marks on how vendors address workflow complexity and confidentiality issues - two areas where Crescendo brings a unique expertise.

At Crescendo, we develop true enterprise solutions that not only allow law firms to reassess the costly production of documents, but enable efficient and secure communications between cross-regional locations as a basis for continuous and profitable growth.
» Anywhere, anytime dictation
DigiScribe- XL offers a complete digital dictation suite designed to address professional requirements, allowing Authors to perform their dictations either on-site or on the move using a wide range of digital dictation devices. The DigiScribe- XL digital dictation suite comprises of:
Real-time PC dictation
Pocket PC dictation
Real-time mobile dictation
Real-time voice playback
Single Facility dictation
» Workflow logic
If your business has more than 15 Authors, you certainly need more than a "ready-to-install" digital dictation kit. It might work for simple letters and memos, but will it work for affidavits, employment contracts or tenancy agreements?

To achieve productivity improvements in the long run, and not only on the short term, law firms need powerful workflow logic and customization to handle the most complex documentation needs.
» Advanced transcription
Whether your firm employs a large number of Transcriptionists and handles a few hundred clients and Authors, you are talking to the experts in professional transcription. Since 1990, Crescendo serves the most dictation-intensive sites with advanced, Microsoft Word-based transcription systems consistently enhanced through customer feedback. Improving productivity while efficiently managing an ever-increasing workflow complexity? Consider it done.
» Protection of confidential data
Whether your staff is already spread over several offices now or will be in a few years, you need a digital dictation system based on multi-facility architecture, fully scaled to serve multiple sites, departments and geographical locations in the most efficient and secure fashion. Confidentiality and data security are the major strengths of Crescendo solutions.
Browse ouf PDF's for more product information: